In a stylish St. George suite, an outdoor bathtub invites under-the-stars soaks. Ready to take the plunge?
An outdoor bathtub has been on our client's dream board for a decade," says designer Susan Christensen. "So when she and her husband had this house built, she asked us to create an indoor-outdoor bathing experience like the couple enjoyed during visits to Japan."
The new St. George home—imagined by architectural designer Shawn Patten and built and decorated by Christensen Homes' Jonathan and Susan Christensen—boasts clean-lined, modern design and nature-inspired details. So, too, does its intriguing, outside-the-box primary bathroom. "For our client, the home was built around this bathroom," Jonathan explains. "That's how important this space is to her."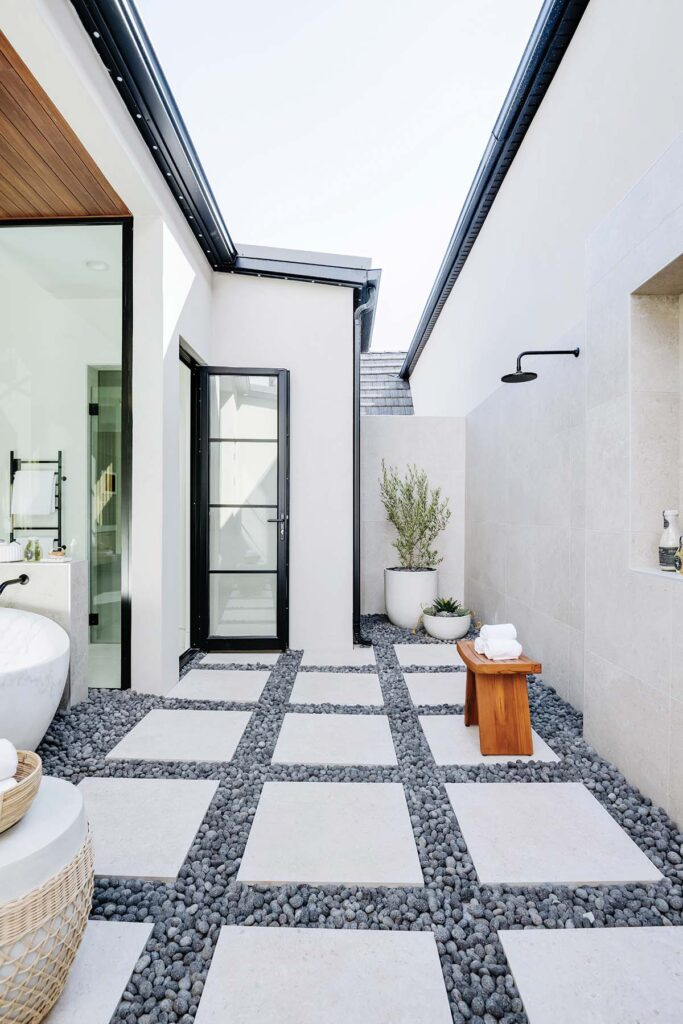 This is no utilitarian washroom, but rather a nurturing retreat anchored by an outdoor tub carved from a single block of marble. Its amorphous form performs like a modern sculpture surrounded on three sides by butt-joint, floor-to-ceiling glass panes. "The tub's organic shape plays off the room's clean, modern lines," Susan explains. A linear chandelier hangs from a plank-clad ceiling above, while beneath the freestanding tub, a bed of tumbled lava stones flows into large pavers that ground the private courtyard with a bold grid pattern.
Across from the tub, double shower heads frame a tiled niche set into a tall, exterior wall dressed with large-format tiles. As functional as they are posh, the tub and double showers can be easily operated through remote controls or digitally through the owners' smartphones. And while the double showers cater to brisk rinses, the tub invites long soaks. "Because it is natural stone, it maintains the temperature of the water much better than a synthetic tub," Susan explains.
Inside the bathroom, a long floating vanity crafted from white oak is topped with Organic White Quartz. Linear sconces gleam on wall-to-wall mirrors, which are custom designed with concealed panels that house inset medicine cabinets. The mirrors reflect light and outdoor views flowing through the room's window wall as well as a transom located just below the soaring pitched ceiling. "Natural light floods the entire space," Jonathan says.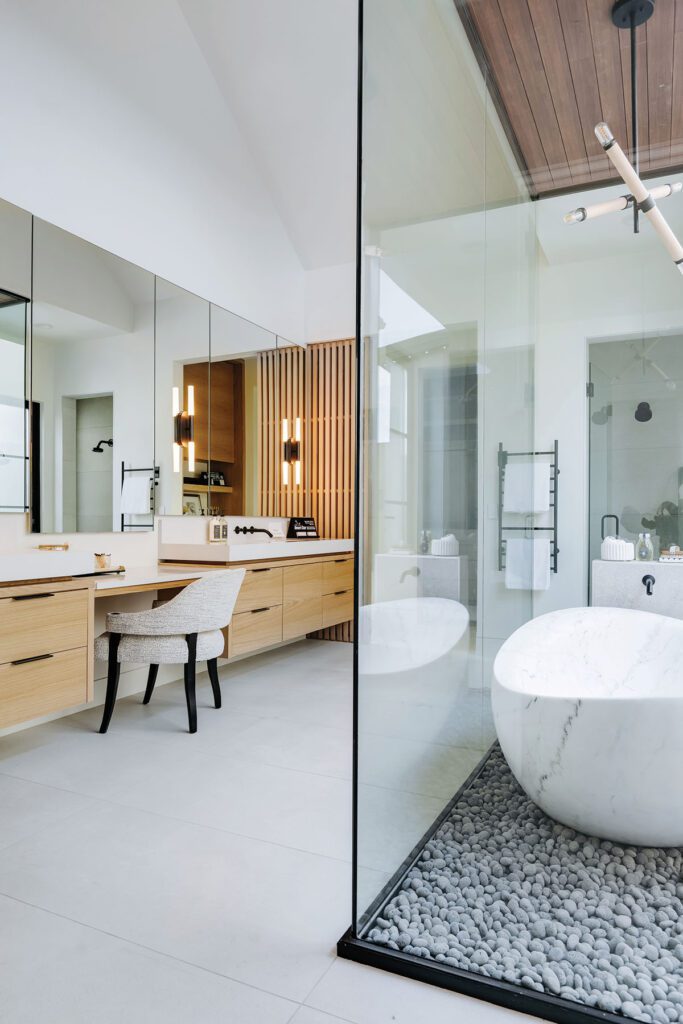 Boosting the bathroom's natural style, custom wood screens frame its vanity at each end. "We didn't want a harsh wall finishing the cabinet ends, so we created Japanese-inspired screens that add another organic element to the room," Susan explains. White walls, large-format floor tiles and minimal hardware further the decor's serene simplicity while a wall-mounted towel warmer and interior shower add to the room's list of luxe features. "The entire house has an indoor-outdoor resort feel," Jonathan says, "and this bathroom plays a big part in that."